This is my first tag and I was tagged by Abby over at BOTH SIDES NOW.   Thanks my dear Abby.
***start copy***
Rules:
1) Once you're tagged, install the corner banner at your blog as a third party html code. (The corner banner need to stay at your blog for at least 2 weeks).
2) Post about this meme, Valentine's Love.
3) Add your blog/s with link/s to the Valentine's Lovers list and leave a comment at this post HERE.
3) Tag all your special friends.
4) Please remember to update your list regularly so that you would not miss out anyone in your Valentine's Lovers list.
Corner Banner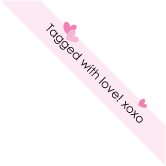 p/s: The wordings on this banner with automatically changed to 'Tagged with Love! xoxo' on Feb 15.
Instruction to install corner banner
(For blogger):
1. Go to 'Layout', Click on 'Add a Gadget'.
2. Select 'HTML/ Javascript', insert the html code above in the provided box.
3. Click 'Save'.
Valentine's Lovers:
1.A Great Pleasure 2.Time Goes By 3.Listen With Your Heart 4.Glossalicious 5. Wishing on a Falling Star 6. Mariuca's Perfume Gallery 7. Simply Shinade 8.
A Simple Life
9.
Mommy's Little Corner
10. Ramblings of the Phat 11. 0007 Undercover TAGMEMAWARD CAT 12. Notes by Marvic 13. Maiylah's Snippets 14. Picture Clusters 15. This is a Miracle 16. purplefrogcat 17. Also Mommy 18. Both Sides Now 19. illusionaire 20. Candles, Crafts and Whatnot 21. The Brainy Bimbo 22.
Sweet Nothings
23. Turn-u-Off 24. Chopsticks 25. My Views On My So Called Life 26. Gagay 27. Empty Streets 1027 28. Life According To Me 29.
Yummy-as-can-be
30.
Mom…Check Nyo
31. Everything Under the Sun 32. My Sweet Escape 33. Never Enough Stuff 34. Windmill on the Hill 35. Snapshot 36. Twinkletoe Writing Space 37. A Piece of M.I.N.D 38. Life is too short to be ordinary… 39. Our Journey to Forever 40. What a colourful life!! 41. Oh Fer Cryin' Out Loud 42. My Online Paradise 43. My Life Story 44. Moments of Colours 45. Lynn's Chic Spot 46. Simply The Best 47. The Spirit of Blogging 48. Tales of A Pinay Single Mom 49. Simple Life 50. Hit-or-Miss
***end copy***
I would like to pass this tag to the following:
BlogNow101
Ask Ms. Recipe
EatYourHeartOut